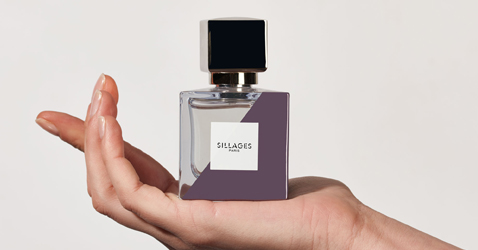 Originally in French, a sillage is the trace left by a boat in the water as it splits the waves. Perfumery borrowed this beautiful image to evoke the scented veil that lingers behind a person. The sillage is therefore related to the memory, but to a memory that always remains alive. Indeed, the sense of smell brings us back to the presence of a person better than any photo. Although it is not visible, the sillage of a person is very real, and evokes that sensual imprint of someone who is there without being there.
Mainstream vs intimate : the sillage in perfumery
Someone's personal smell is something eminently intimate, and everyone has their own relationship to perfume. Some have had their signature scent forever, and others will look for it for years. Still others change their fragrance at each new stage of their life – like a metamorphosis, it can be a strong signal of change to others. Finally, there are chameleons, players, the ones who change their perfume as one would change outfits, who collect and match their scent to their mood. Their sillage reflects their state of mind and their mood of the day.
Anyway, our deep conviction at Sillages Paris is that a perfume should be created for a person, not for a market. We know that each of us is special, so each fragrance should be special as well. Our perfumers have the mission to create everyone's sillage. Our personalized perfumes of excellence are handmade with love in Paris, formulated with the finest ingredients, ultra-creative and accessible to all.
Why "Sillages Paris"?
The "sillage" in perfumery evokes not only the signature of a perfume and its lasting power, but also the person who wears it. It does not evoke a static perfume in its bottle, but the smell that one leaves behind, the signature which everyone will remember. A sillage is unique to everyone, it is the soul of a perfume. From one skin to another, the sillage of a fragrance with a high concentration of natural ingredients (like ours are) will smell very differently. Natural ingredients can reveal different facets on different skins, thus creating an olfactory signature that belongs only to its wearer. It is this singular, intimate and special imprint that inspired the name of the house.

As for Paris, well… Paris is where our house was born and where our brand grows, nurtured by the beauty, energy and many influences of the eternal city. It is in Paris that our workshops are located, like a hidden jewel nestled in a secret courtyard of the capital. All of our fragrances are made-to-order and handmade with love in the tradition of Haute Parfumerie. Our house wants to re-enchant this beautiful French know-how, of which Paris is the emblem.
All evocations of the name, and the place of origin of the house are reflected in its graphic identity. Sillages Paris's logo was designed by the great French designer Pierre Katz to evoke both strength and permanence, the name of an institution, and the evanescence of a fragrance's sillage. The cuts in the letter give the name a particular and radical silhouette. The name, thanks to this contrast between shadow and light, seems to appear and disappear.
Haute Parfumerie 3.0
Far from the standardization of mainstream perfumery, Sillages Paris invents Haute Parfumerie 3.0. It is a new way to consider fragrances, for those who do not want to smell like everyone else. We offer everyone the opportunity to compose their personalized perfume online. Choosing from a palette of the most beautiful natural ingredients, you can then select your own sillage among the hundreds of formulas created by our master perfumers. We know the quality will speak for itself, so we also offer free shipping and a full refund if your Sillage is not a match 😉
To find the perfect formula, simply select from 3 to 6 of your favorite ingredients among our palette of 64. As ingredients are selected, our algorithm looks for a custom formula according to the your tastes, among the accords created by our perfumers. We only offer combinations that are a 100% Haute Parfumerie results, created by our perfumers. Each customer is thus guaranteed to obtain a perfect sillage. In case of doubt, it is even possible to check your favorite ingredients by indicating the name of fragrances you know you like.
To develop its beautiful combinations, Sillages Paris relies on the rising stars of perfumery. As a perfume house, we wish to participate in the emergence of the star perfumers of tomorrow. We place our confidence in young talented perfumers to create truly different fragrances that reflect the singularity of our times. These perfumers are full of bold ideas and are already on the radar of the biggest brands. For us, they are constantly creating new formulas, with no budget limit or creativity.
Let's keep in touch ! Follow us on Instagram 🙂