For our fourth special people article, we introduce you to Marine Maiorano-Delmas AKA @metauxlourds, a sex-positive feminist – a term that advocates the liberation of the body, sex, and pleasure. Besides her job in marketing and communication in an "anti-" sex shop, she manages her own sex and body positive community on social networks and on her blog, Diplodocul. Her mission is to help fight the prejudices and taboos that prevent women (and men) from flourishing sexually – and mentally. A superheroine of self-care (caring for yourself with kindness), Marine is also a positive body activist who tackles grossophobia and tries to break down the walls of narrow-mindedness. A brilliant, passionate, and fascinating girl, Marine captivates us with the freedom of her choices.
Our Special People inspire us with their style, their journey, their way of living their life, or their relationship to perfume. Sillages Paris is a Haute Parfumerie company that wants to celebrate originality and singularity: both in the perfume, and in the people who wear it. Indeed, we believe that each of us is special, so each fragrance should be special. Sometimes we meet people that truly inspire us, and it's their stories that we want to share with you. These special people can be people we run into, or our own customers we love to meet. For each of them, we have created the perfect Sillage.
The Miseducation of Marine Maiorano-Delmas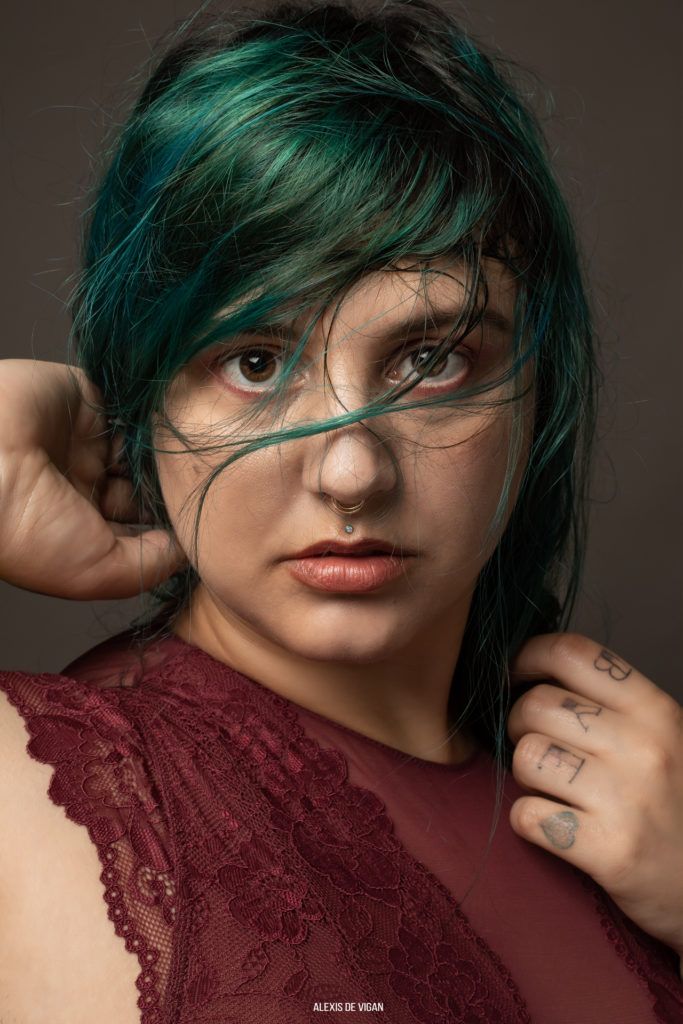 Before becoming MetauxLourds, Jezabel Putride or Catin Haineuse (from her various nicknames on social networks), and fighting for the freedom of the body, Marine Maiorano-Delmas promised herself a career dedicated to animals. Diagnosed as "gifted" or High Intellectual Potential (HPI), Marine passed her baccalaureate at the age of 16. Leaving school was a liberation, as she felt perpetually out of step with her classmates because of her age difference with them, due to learning methods that were poorly adapted to her neuroatypia.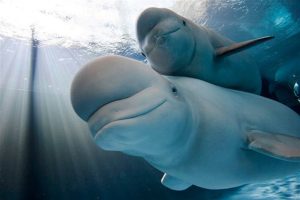 And it is because she is an animal lover that Marine started a veterinary prep course, and then a biology course. She dreams of becoming a marine biologist and of taking care of beluga whales, "the dumplings of the sea," as she calls them. Absolute fun fact: Marine explains her passion for beluga whales by the fact that, being hyper-playful beings, they can die of boredom and sorrow if we don't play with them. Hence the ultimate career aspiration: to be THE person who plays with belugas.
Finally, bored with marine biology, and passionate about drawing since she was a child, she turned to Applied Arts. But with a Master's Degree in Industrial Design under her belt, she discovered the world of design where she often saw a pretentiousness that bothered her. She left feeling disgusted by the environment in which she worked and because she had a passion for drawing. This marked the beginning of a pivotal period of discovery and self-affirmation which Marine recounts to us and how she has become a truly amazing woman who inspires us so much.
Makeup: a tool for self-expression and creativity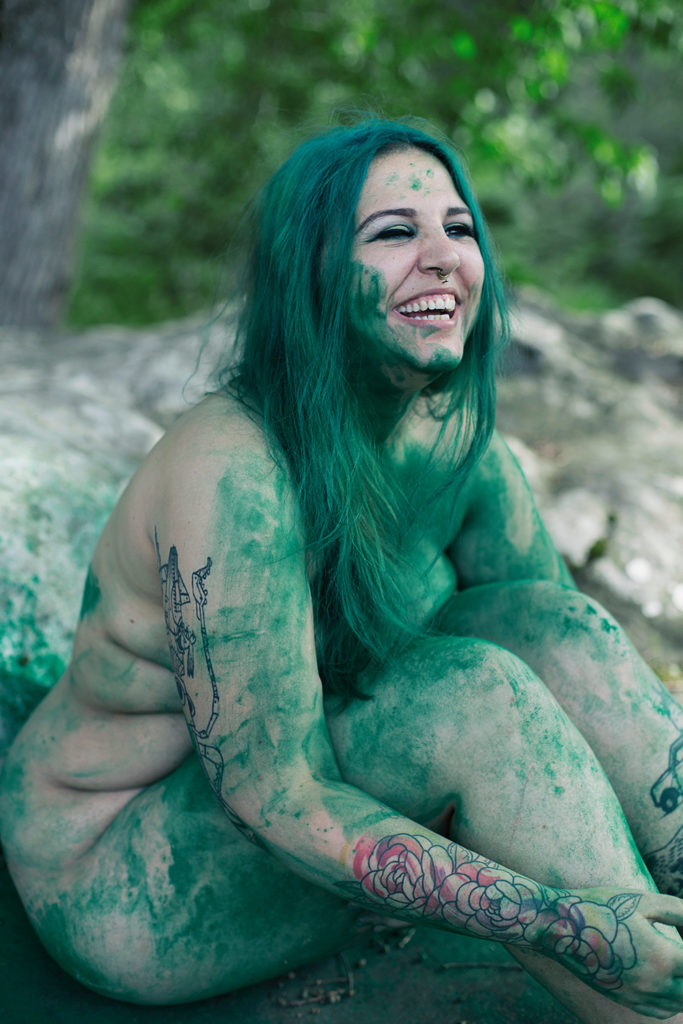 About 8 years ago, I started using makeup and started a blog that was a hit. It wasn't about standardized beauty in the sense that I didn't consider makeup as a tool to make you look beautiful. Rather, I saw makeup as a form of creative expression in its own right. At the time, I was super interested in complete transformations, special effects, etc. And the world of drag queens has always fascinated me–they have clearly been one of my greatest inspirations.
They also taught me to accept and celebrate being different, because they are incredible performers who show that you have the right to be who you want to be. It even means sometimes going into something completely excessive and decadent! But they say loud and clear "you have the right", and it's a work in itself. It has completely changed my vision of myself and of life.
So the blog worked very well, but then I started to do more and more shoots, and I realized that I wasn't having fun anymore. Finally, I decided to stop and resumed a period of exploration with jobs for cosmetic brands.
The revelation of the love store, or anti-sex shop
But I had my revelation the day I arrived on my current job, in a shop called a "love store". This shop aims to break the rules of traditional sex shops by promoting a fun and uninhibited vision of sexuality. At the time, when I saw that they were looking for a saleswoman, I jumped at the opportunity. I've always been really invested in sex-positive* activism and feminism. I've always been very interested in sex. Not in the "I'm a big hottie, and I want to fuck everything that moves" kind of way (and even if I did, that would be great too!). But rather sex in social relationships, and sex in relation to gender… In the way, we also consider sexuality today (badly). Sexology, the psychological drives involved, and the anatomy, are subjects that fascinate me.
The sex-positive movement is a social and philosophical movement that promotes sexuality and sexual expression, emphasizing pleasure, protected, and consensual sex. Sexual positivity is "An attitude toward human sexuality that views all consensual sexual activity as fundamentally healthy and pleasurable, encouraging sexual pleasure and experimentation. The sex-positive movement also advocates comprehensive sex education and safe sex." The movement generally makes no moral distinction between types of sexual activity, viewing these choices as a matter of personal preference.

Excerpts from Wikipedia's "sex-positive movement" page.
"I realized I was doing a public service!"
And I found out I was better than I thought I was. In fact, I realized I was doing community service! Sometimes I see shy little chicks who end up telling me that they're super worried because they've never had an orgasm, and that it hurts during penetration and ask me, "It's normal, isn't it?" Well, no, it's not normal. And it's not their fault! This educational work changes their life, and you just have to talk about it. Whether they are young girls or even sometimes old ladies for that matter. I've had some who came back a few days later to thank me, and that's great.
But it's not just women who suffer from a lack of sex education. You've got guys who come to find a way to delay ejaculation to please their girlfriends. Except you just have to relax, no one wants to be fucked for 3 hours, actually! We were taught that penetration was the most important thing, and that's what sex is all about: that's not true! Penetration is fine if you like it, but it doesn't mark the end of intercourse. There may not even be penetration at all! And whether it lasts 3 hours or 10 minutes, this kind of concern is indicative of a performance culture that is hyper toxic.
Sex positivity : pleasure through education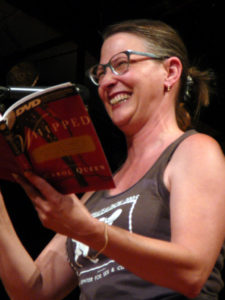 Lately, I've started taking sex questions on my Instagram stories. It's not for work; I do it completely in person. And it's amazing how many questions I get every time. So I can't even answer them all! As the stories don't really allow me to go in depth, it also forces me to answer in a very summarized way, but I give pointers. Sexuality is so important, and we talk about it so little. With little things like that, I feel I have a small impact, and that's great. I've also started writing a blog about sex issues called Diplodocul.
I also organize sex workshops (with cis and mostly straight women at the moment), especially on the subject of sex toys. It's a great tool for self-discovery. I would also like to organize a workshop for straight men because I often hear women complaining about men, as if they were the only ones responsible for female pleasure! There is a perception that women have an ingrained sexuality; that women are a receptacle and expect their pleasure to come from men, whereas you have to be an actress for their pleasure! Already chicks generally know very little about their bodies–how can you expect others to guess how it works? And in general, I also find that there are more and more guys who are curious.
The Positive Body movement: a battle against alienating beauty standards
I'm a woman, and I'm fat in a world where obesity is deeply frowned upon. Since I was 12 years old, I've been fighting eating disorders. I've been anorexic and bulimic. I've gone from 50 to 120 kilos. Frankly, it hasn't always been easy.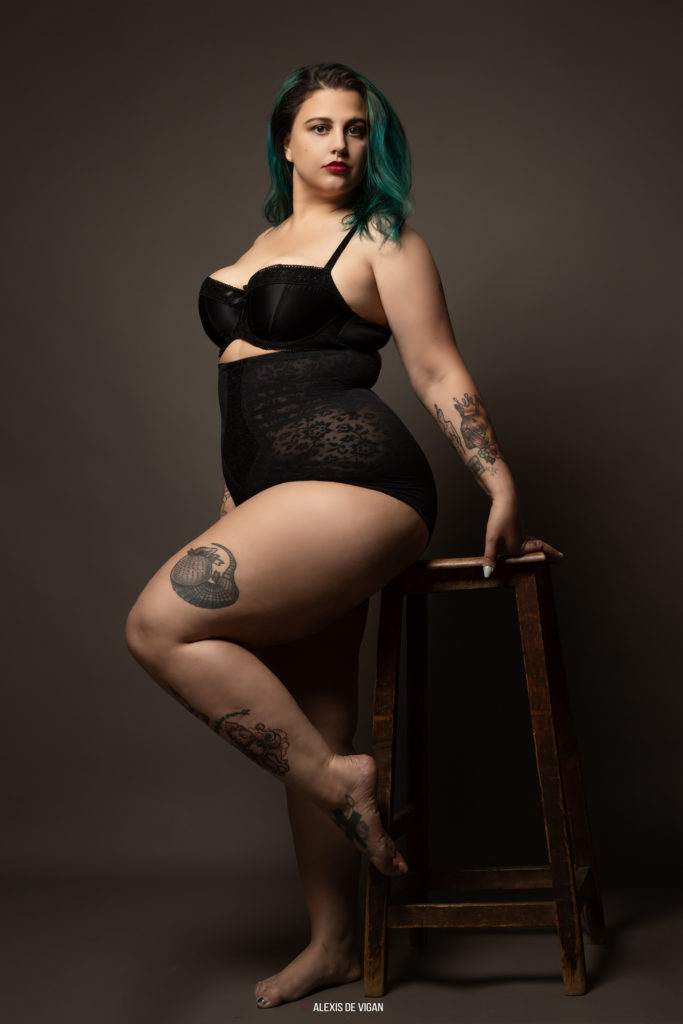 Nowadays, when you're fat, there's a lot of stuff you don't have access to. And I'm one of those "acceptable fatties"! Among the fatties, I'm privileged: I have an hourglass morphology that society considers more acceptable and is less stigmatized.
But when you're fat, you have to know that there are many forms of discrimination against you: discrimination in hiring, problems of accessibility for street furniture, or even health. Then you have more subtle discrimination, such as reactions on the street or comments on the Internet. Or the fact that as soon as you show up, you're expected to make an apology for being obese when you're not! You just want to exist.
"What I show online is 100% me, it's not a character. It's me serving a cause."
I also believe in the importance of fat people being represented in the media and in general. What I show online is 100% me, it's not a character. It's me serving a cause. I'm trying to get away from all these standards that are imposed on us. I used to take a lot of very polished photos, and now I'm starting to take photos that are a lot more relaxed. I do selfies when I'm not wearing makeup. And I post pictures where you can see my bulges. I'm feeling more and more free!
In fact, I think the Internet is great, also because it allows communities that have been discriminated against to talk to each other and support each other. Minorities are no longer hidden now that we can see we are not alone, and it allows us to set up collective awareness activities. This is a very positive thing. It can also be seen in the ads (the pinnacle of mainstream), where we see more and more inclusiveness. I think that in a way, social networks and blogs are also making a difference.
Marine Maiorano-Delmas's take on the Internet and its trolls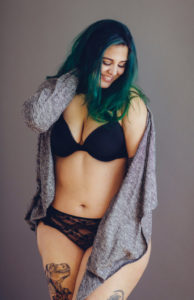 These days I'm lucky because I really have very few "trolls" [anonymous people in general, who violently and gratuitously criticize someone, and who fuel polemics on the networks – Ed. Note]. But at the time of my first blog, I received hateful comments all the time. At first, I had a very bad experience, and finally, I stopped blogging. I was fed up with seeing whole threads against me on forums, when I was just a girl doing makeup on the Internet! But since then, I've made peace with myself, and comments from strangers don't bother me anymore because they're often so stupid.
What I have on my page, on the other hand, is hyper-sexualized comments because, as soon as you show yourself naked, people say you're looking for them! I've been sent some very disturbing stuff. Once a particularly twisted guy pushed me to submit a complaint to Instagram. But they didn't do anything because there was nothing in the public record that warranted action against him. I reported him, but Instagram didn't budge. It seems harassment is very difficult for them to assess, but they're very quick to censor a nipple…
Marine Maiorano-Delmas meets Sillages Paris
I was very happy that you contacted me because I had seen your collaboration with Claude-Emmanuelle, which I thought was great. And especially the fact that you emphasized his background and his activism. It's cool to see brands that proudly showcase our differences. And I think it's great that you've come to me as an unbearable activist, hahaha!
Perfume is something I discovered very early on, because when I was a baby, my mom used to put a Shalimar-scented handkerchief in my crib. I would often ask her for a little drop of Chanel No. 5 behind my ear. Smells are very important to me, because they're very much linked to memories, places, people, moments… We don't "conscientise" our sense of smell; rather, there's something going on in the background that we can't control. It's primal and hyper-powerful.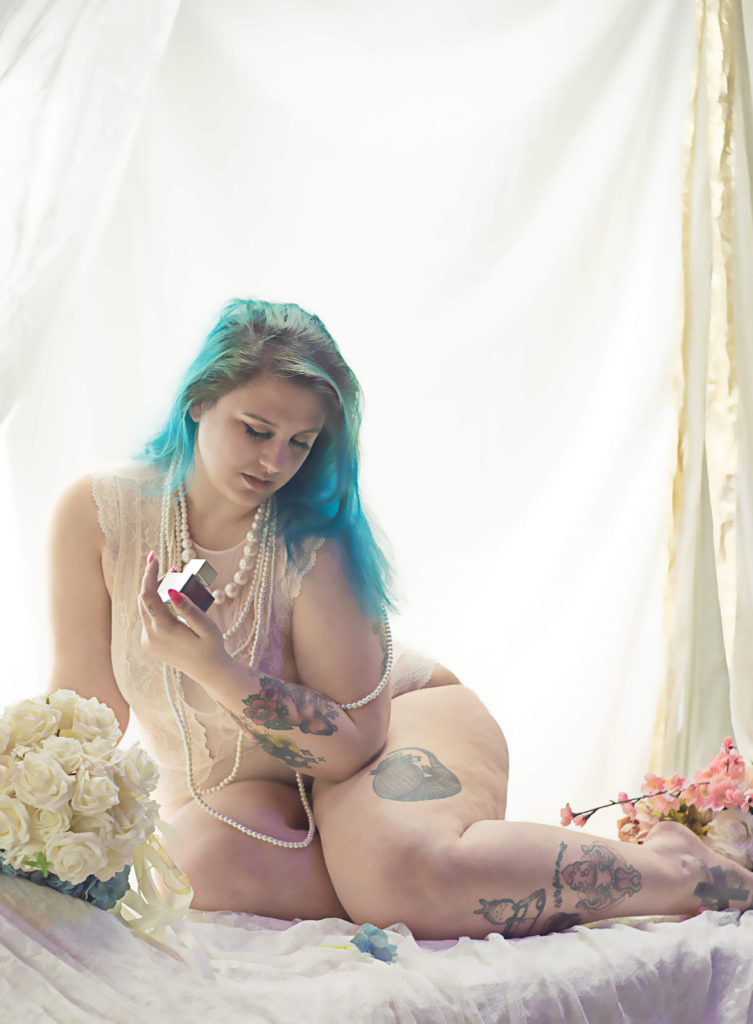 "…the perfume diffuses around you, it's part of you, almost like an aura."
For me, smell is also very important in sex, in seduction and sensuality, of course! It can be an aphrodisiac, and that's normal because the perfume diffuses around you, it's a part of you, almost like an aura.
I don't wear perfume every day. Perfuming myself is not an automatic process, like makeup. For me, intimacy is when there's nothing there, and you're vulnerable. And then there's "me-time" which helps you establish who you want to be and what you want to project.
I like to have different fragrances to change according to my mood, and I also change according to my outfits! I even have perfumes that I buy without wearing them, at least not right away. For example, a few years ago, I fell in love with a fragrance that has a very resinous side to it, and I had a hard time taming it. It was a bit "too much", too distinct, too specific… and I felt for a long time that it wasn't me. But today I realize that it finally fits me and that's cool. It's also about an evolution: at the time, it was supposed to project something that I wanted to be, and that's it! Today I feel that it fits, and I think it's really pretty.
Marine Maiorano-Delmas's Sillage
I chose my Sillage for its initial shot of freshness, like a great burst of vitality. And especially for the way it transforms on my skin and brings out strong, "ancestral" notes that smell of earth and forest. For me, its fragrance evokes a thousand-year-old power. I love it!
The Sillage de Marine evokes a grove of wildflowers on damp, green moss in a fresh undergrowth. Vetiver blends with violet and angelica flowers to create a bucolic and very sweet accord.
Let's keep in touch ! Follow us on Instagram 🙂